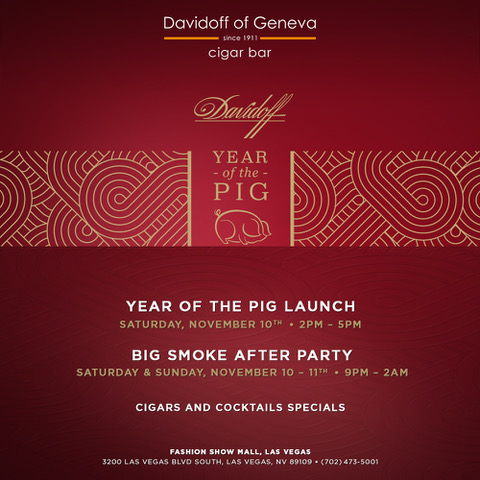 November 2018
November has always been an exciting time for us. We originally opened in November of 2015, just in time for Big Smoke. And this year we had an exceptionally fun weekend during the Big Smoke hosting the global launch of the limited edition Year of the Pig from Davidoff.
Davidoff Limited Edition cigars are incredible all on their own but, for us, they have become reminders of each year we have been open. We opened the bar with an arsenal of Year of the Monkey cigars. They were so well received by customers and equally loved by our humidor staff. To this day, several of us still consider they Year of the Monkey as our favorite Zodiac cigar. The Year of the Rooster marked our second year in business. Those uniquely shaped boxes which housed beautiful diademas finas took center stage in the humidor. Next came the Year of the Dog, which, again, had amazing packaging but and even more interesting product within. We were able to find foster parents for all our puppies rapidly. They also rated very highly in our opinions, as cigar nerds.
Each one of these cigars had its own momentum, its own taste and was something that industry insiders and cigar enthusiasts had to try. Having enjoyed these ourselves and sharing in the excitement they bring has been our distinct honor. So, as you can see, the idea of getting to be the epicenter for the launch of the latest Limited Edition offering had each one of us absolutely beside ourselves. We were honored, humbled and completely fired up about this turn of events. Smoking this cigar this weekend will be the reminder of this weekend for years to come.
The Year of the Pig launch party was the big news for us, truly, and it made for a wonderful weekend. Beyond that, we also work continuously to have enticing cigars to offer enthusiasts and cigar snobs alike. Along with the Year of the Pig, we also have Davidoff Royal Release cigars, Davidoff Florida Selection LE 2018, Davidoff White Edition 2011 Belicosos, and the Davidoff Las Vegas Exclusives, to name a few.
We do carry other brands as well and feature sought after product lines from Padron, Liga Privada, My Father, Arturo Fuente and a litany of other well known sticks. Please come see for yourself.
If you couldn't come see us this weekend during our launch party, we hope to see you soon. For those of you that were going to be in attendance… We thank you for helping us celebrate a tremendous weekend.
Thanks you for your continued support,
Rich Wilson
Assistant General Manager/Cigar Ambassador
Davidoff Cigar Bar – Las Vegas